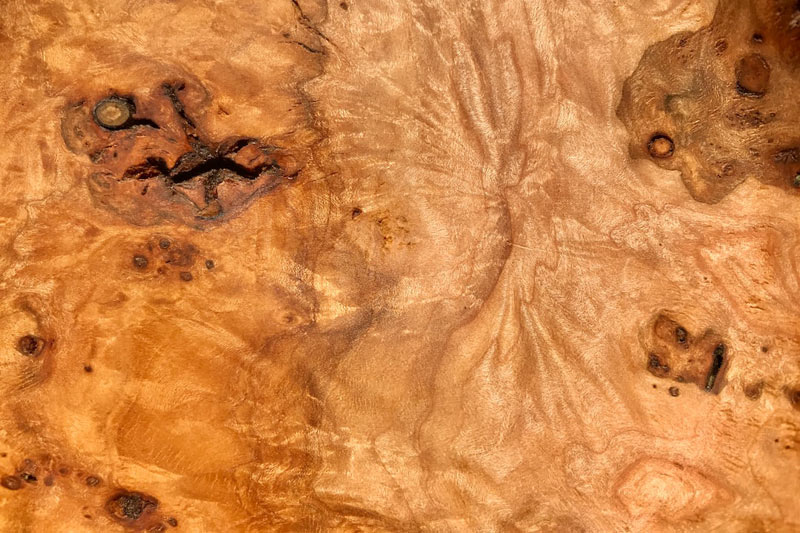 Did you know that woodworking is good for you? Having a hobby like woodworking keeps the mind engaged, helping prevent cognitive decline and depression. And it can be a great, low-impact way to stay active, especially in the colder months when it's hard to work up the motivation to get outside.
But if you're a seasoned woodworker, you might grow bored working with staple woods like maple, mahogany, and walnut. So for a unique challenge, consider working with burl wood.
These unique knots of wood have a long history in woodworking, often being used to craft one-of-a-kind items. But before you start any exotic woodworking projects, you should understand what wood burls are and why they're so highly sought by craftsmen.
What Is Burl Wood?
Though you may not be familiar with the term, you've almost certainly seen burl wood in nature before.
Burls form when a tree suffers an infection, either from harmful bacteria, fungi, viruses, or insects. The stresses caused by the tree trying to clear the infection can result in wood growing in irregular shapes or patterns.
Woodworkers prize these burls for their unusual grain patterns and colors. Their abnormal shapes can likewise lend themselves to some unique designs.
Burl Woodworking Projects You Can Try This Fall
Wood burls come in all shapes and sizes. Large pieces of furniture made from burls, for instance, often become prized antiques with time. Pieces made from burls likewise run the gamut of size and skill level needed to craft them.
Here are a few projects of varying complexity that you can try your hand at.
1. Wine Bottle and Glass Holder
As far as simple woodworking projects, this may be the most beginner-friendly. A hole in the middle of the board fits over the neck of a standard wine bottle. Then in each corner, you cut a slot to fit the stem of a wine glass.
All you need is a piece of wood 7.5 inches square, so it's perfect for a small wood burl. Yet the finished product makes for an elegant gift for any wine aficionado.
2. Outdoor Table
In a previous post, we suggested that a large burl would be ideal for crafting a custom coffee table.
A more modest alternative is using a smaller burl to craft a handsome end table for your porch. It will give you a great place to set your coffee mug while you enjoy a brisk autumn morning.
3. Burl Wood Serving Board
A simple wooden serving board is one of the best woodworking projects to take advantage of burl wood's rich colors and patterns.
As far as burl woodworking projects go, it doesn't get simpler than crafting a single, flat board. Yet the wood's natural beauty is sure to impress guests when you bring out the charcuterie spread at your next fall get-together.
4. A Natural-Edge Lazy Susan
This project lets you preserve a piece of burl wood's natural beauty.
All you need do is cut one good slice out of the center, then grind and polish it to a handsome sheen. And with that, you have a rustic centerpiece for autumn dinner parties.
These Simple Woodworking Projects Are Only the Beginning
Working with burl wood provides a unique challenge that even many exotic woods can't match. And because of the unique shapes burls can take, each one is an opportunity to craft a one-of-a-kind work of art.
These projects are only a few ideas to get you going. So to start crafting novel variations on these ideas, check out our selection of burl wood for sale today.
Global Wood Source is a family-owned and operated lumber yard and mill specializing in exotic woods from around the world and rare domestics. We personally acquire and inspect each piece of log and timber obtained from forests and jungles worldwide.