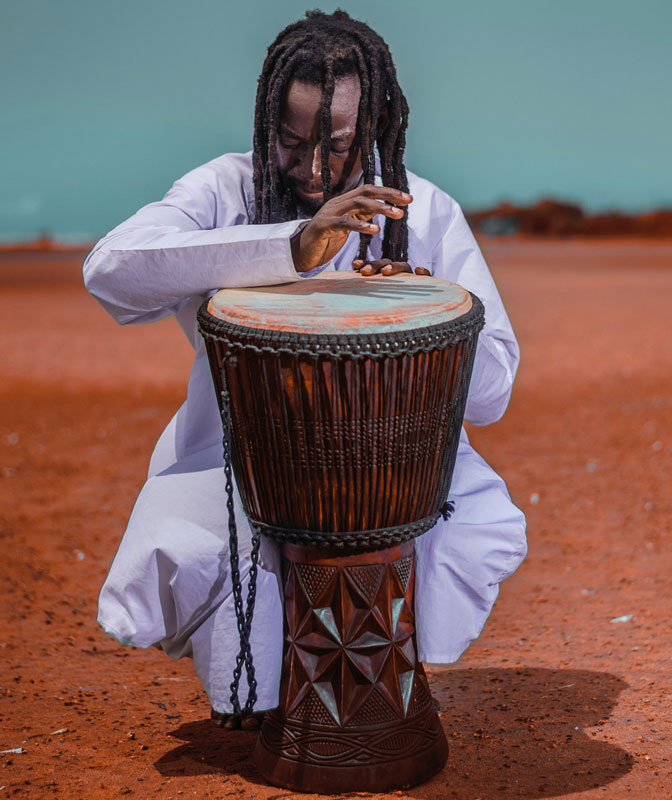 Musicians know that the tiniest change in how an instrument is made can have a noticeable difference in the sound produced. That is no different for a wood drum.
Most drums are usually made out of maple, birch, or mahogany. These woods all create great sounds, which is why they have been used to make drums for so long.
However, some people are turning to exotic woods to create their drum shells. This option can create a completely different and exciting sound.
Let's take a look at the different traits of exotic wood drum shells.
Macassar Ebony
When you hear the word 'ebony,' does your mind immediately go to the "Ebony and Ivory" song? Ebony is commonly associated with pianos , but Macassar ebony can also be used to create beautiful drum shells.
This wood comes from southeast Asia and is usually used to create stringed instruments, such as guitars. It is an extremely hard wood, which is obvious as soon as you strike the drum. This wood is a great material to create drums that produce sharp, cutting high tones.
Purpleheart
Want a drum with some color, but do not want to dye the natural wood? Go with purpleheart.
This wood from Central and South America has a naturally grey/purple color to it, which can create an absolutely beautiful instrument. It is very durable and sensitive, which creates a unique sound.
Purpleheart is perfect if you are looking for stand-out low- and mid-range tones.
Ash
Ash is much easier to find than either of the woods above, but it is still a fun material to create a drum shell.
This wood creates a very warm sound, which can change the entire mood of the beats you play. Its high and mid-range tones are very clear and warm, but it suffers a bit once you go to low tones.
Sycamore
The sycamore tree grows in Europe and Southwest Asia, and it is easy to work with, either by hand or with tools. It is one of the softest woods you can use to create a drum shell.
Since harder woods create a distinctive sound, it is surprising that sycamore wood does so well. The softer wood creates mid-range tones that vibrate and spread throughout a room. It is also ideal for creating high tones.
Myrtle
If you are interested in exotic woods, but still want a sound that is close to what you are used to, then you might want to give Myrtle a shot. It sounds pretty close to birch when you play.
This wood works best in the higher ends of the middle range, and it also produces some great sounds when it comes to higher tones. The notes linger really well so that you can continue enjoying the sound your drum makes even as it fades.
Find the Best Material for Your Wood Drum
Why not have a drum that sounds different from everyone else's? These are just a few of the exotic woods that you can use to create a unique wood drum shell. You can find one that matches whatever sound and feel you want.
Want some inspiration? Check out the wood types we have in stock!
Global Wood Source is a family owned and operated lumber yard and mill specializing in exotic woods from around the world and rare domestics. We personally acquire and inspect each piece of log and timber obtained from forests and jungles worldwide.