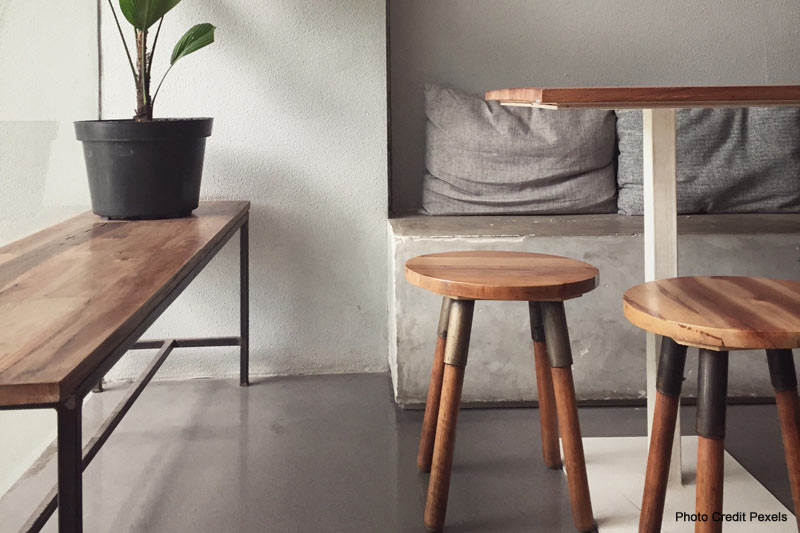 Furniture making is a skill that requires close attention to detail. One of the main details that a furniture maker needs to consider is the type of wood they use. The type of wood can affect the style, value, and even the quality of the furniture!
One of the most beautiful colors of wood is dark wood. Unfortunately, dark wood is considered to be a luxury. Are you interested in making furniture out of dark wood?
If so, keep reading to learn about the different dark woods that you can use to create beautiful, elegant furniture.
Walnut
If you are looking for a dark wood that is hard and durable, walnut could be the perfect choice for your next project. Walnut offers a beautiful, dark color that often works well being made into furniture, such as a dark wood desk.
Walnut wood typically has large burls, which gives it a unique look. Every piece of walnut will look different because of the burls.
Mahogany
Another type of dark wood that is perfect for furniture making is mahogany. Mahogany is a dark redwood that originates from Central and South America.
Mahogany is a durable wood that continues to darken as it gets older. Due to its ability to produce a beautiful sound, it also can be used to make instruments.
Wenge
Wenge is a rare type of dark wood that comes from Africa. It is often used to craft floors, cabinets, paneling, and fine furniture. Due to its rarity, it can be expensive to buy.
If you decide to use wenge for your next woodworking project, be sure to wear gloves and respiratory protection. Wenge tends to produce many splinters, and the dust is an irritant to your nose and throat.
Cocobolo
Cocobolo is another rare choice for furniture making, but it produces genuinely unique furniture. It offers a range of different color hues, including red, purple, yellow, black, purple, and green.
It is dense and robust, then it is perfect for making furniture such as a dark woof desk or a dark wood coffee table.
Ebony
Of all the woods on this list, ebony is expensive because it is high in demand. If you are looking for dark wood to make a luxury piece of furniture, ebony could be best for your project.
Ebony is hard, durable, and has a fine grain. The fine grain allows ebony wood to polish nicely. Ebony is also used for making instruments.
Ready To Use the Different Types of Dark Woods?
Woodworking is a valuable skill that allows you to craft handmade furniture. If you want your next piece of furniture to be elegant and beautiful, you should craft it using one of the different types of dark woods mentioned.
Are you ready to choose a type of dark wood for your next furniture project? If so, shop our wood inventory today to get started!
Global Wood Source is a family-owned and operated lumber yard and mill specializing in exotic woods from around the world and rare domestics. We personally acquire and inspect each piece of log and timber obtained from forests and jungles worldwide.