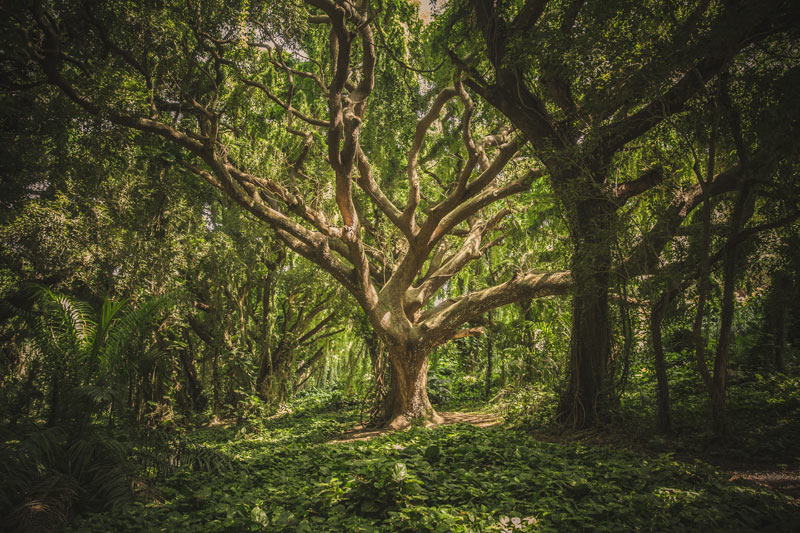 Burl wood is not a specific type of tree, but a type of wood. This is one of the main ways it differs from other slabs of wood you may purchase. Burl is formed out of the side of a tree. It is where the grain of the tree has developed in an unusual way. Typically, you will find that the burl growth affects all parts of the tree, including the roots, trunk and branches.
While hiking in a forest you are sure to spot loads of trees that have burl growths. It will even look unnatural to you, but it can make some stunning wood that can be used in a variety of projects. You can spot burl wood by its roundish shape and it will abnormally be coming out of the tree. There will be knots in the wood and it will vary in shape and size. Burl wood will vary in texture as well. You may have some that is smooth and others that are rough.
What causes Burls on Trees?
You may wonder how burls are formed. Just like our bodies when we are in stress, a tree can experience sickness and hurt. This sickness affects the tree both internally and externally. The grain in the wood reacts and causes abnormalities, which creates burls.
A tree may undergo stress if they are overtaken by insects or mold. These types of issues are often hidden by the bark of a tree. Once it does become evident that a tree is suffering it is most of the time too late for a resolution. Burls will begin to appear at this point.
These burls do not really have an effect on the lifespan of a tree. However, if the burls are removed it can completely kill the tree. Burl wood should only be removed from a tree that is no longer living.
Burl Wood Creations
After hearing what burl wood is, you may be wondering what you can make from this type of wood. Perhaps, this type of wood sounds more like an eyesore than anything. This is not true. Burl wood is unique and rare. Wood experts consider it to be extremely valuable. The value of the wood is measured on the size and type of tree it is coming from.
Once the burls are taken from the tree they can be used for a number of projects. These include furniture, veneers, live edge tables, artwork, bowls, wood watches and much more.
Types of Burl Wood
Burl wood comes from different types of trees. The most common are redwood, maple, walnut, oak and cherry. Every piece of burl wood is unique, and this is one reason they are considered rare and valuable. They come in a variety of sizes and have different grains and color of wood. In fact, it would be near impossible to find two pieces exactly alike.
Spotting Burl Wood
There is not a particular location where burl grows. However, burls tend to form near the bottom of the trunk or where branches have been broken. It is common to spot several trees in one location with burls.
Global Wood Source is a family owned and operated lumber yard and mill specializing in exotic woods from around the world and rare domestics. We personally acquire and inspect each piece of log and timber obtained from forests and jungles worldwide.