Admin 11/30/2015 @ 15:30pm on 1st Dec 2015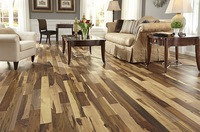 Exotic hardwoods is not your everyday lumber sold in local hardware stores or even big box home improvement stores. It is the broad-leaved dicotyledonous trees growing in the forest that takes decades to grow into maturity. It is favored for its hardness and aesthetic value and it is a bit more expensive than the softwood variety.
Some countries prohibit the harvest of hardwoods even if their ancestors planted it. Ecological activists fight for the preservation of the trees in order to maintain the balance of the ecosystem. But in countries where hardwoods abound, the owners can harvest the trees and sell it in the open market. The government requires reforestation but many landowners cannot afford the reforestation program. Many abandoned the land after swathes of exotic wood are harvested.
If you consider selling hardwood on the open market, there are advantages and disadvantages that you have to consider before you announce a sale.
Pros:
In an open market such as the online stores wherein their global presence is determined by the countries subscribing it. Your products are showcased in a dedicated page. Keyword searches may lead to your products and to your doorstep. You can post your products and announcements for free. Searches for "exotic wood" or "exotic hardwood supplier" can lead the buyers to you.
No need for physical infrastructure.You can display your products through images with links leading back to your website.
Members of these marketplaces vouch an increase in sales after a few months of becoming members. You can verify the testimonies through your personal experience later on.
Finding buyers is as easy as ABC but finding the legitimate ones can be painstakingly slow.
Cons:
While registration is free, having premium membership is not. These marketplaces can restrict your exposure to legitimate buyers and you don't have protection against bogus buyers or scammers.
You can find hundreds of lumber suppliers listed in the open market today. Getting your products found may take some time if you don't get a preferred posting.
Real time inventory is not possible if you don't personally update your online store. The marketplace may inadvertently miss updating your page and may result to negative reviews which in turn could hurt your credibility online.
Whichever market you prefer, you just need to remember one thing; get your products out there and find the highest bidder.