Global Wood Source on 24th Feb 2015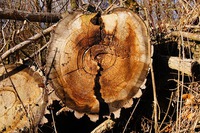 The timeless, sophisticated beauty of wood has made it one of the most desirable materials on the market today. Due to the immense need, acres upon acres of forests are being destroyed by illegal loggers. Whether the increase is due to population growth, the go-green movement or remanufacturing of aged structures, some surveys claim that approximately three to six billion trees are cut annually.
If growth continues at this rate, it won't be long before the earth will be denuded of its major rainforests, consequently affecting all living things. Floods, dramatic weather changes and the extinction of endangered species are bound to occur. Not to mention that our future generations will no longer have trees to climb, fresh air to breath, or fruits to provide them with sustenance. The overall issue is much bigger than we all understand it to be.
These are the reasons why more and more people who are considering buying wood for their projects are now becoming more conscious of the sustainability of the materials they are buying. If you are one of the buyers who care about the environment and the future generations, isn't it time to learn about the sustainability of wood before actually purchasing it? But how can you check the sustainability of wood? Read on and find out.
How to Verify the Sustainability of Wood
Check the wood species and its country of origin
Knowing what country the wood you are considering buying is important in determining its sustainability. A reputable wood supplier will have these details, after all they will know where they got the wood from and the information should be readily available to you. Of course, it also pays to prep yourself with essential information – the appearance of different types of woods, from their color to density to patterns; a list of woods that are considered endangered, and so on; so you can check the data your dealer is giving you against your own information. This may seem time consuming but remember this is our environment at stake.
It can also happen that the wood was harvested from a country where it is considered endangered and then processed in a different one or vice versa.
Search the PEFC database
The Programme for the Endorsementof Forest Certification (PEFC), the world's largest forest certification system, has huge, easy-to-understand databases that you can use to find certified forests. The good thing about PEFC is that it requires all family and community-owned forests to comply with standards set by the ILO from 2001 onwards, thus ensuring that none of its certified products came from unsustainable wood or processed by ill-treated or underpaid workers.
Look for the FSC seal
The Forest Stewardship Council, on the other hand, keeps a close watch and certifies the processing of wood in the United States. Products bearing its tree-like logo mean that they came from conscientious sources. They have passed environmental, social and economic standards as set by the council.
Thus, you can be sure that the wood you are thinking of buying was not sourced from old, exotic trees that are already considered endangered.
Beware of the price
Authentic but sustainable wood products like table bases or Redwood slabs do not come cheap. They carry a hefty price tag not only for their beauty and rarity but also because of the many processes they have to go through. So if someone offers you cheap wood, think again. Chances are, they came from an origin without any standards or were perhaps obtained illegally.
However, be wary of wood products that are sold at exorbitant prices. Some dealers sell their products at sky-rocketing rates to make unsustainable or fake products seem authentic.
To be on the safe side, buy only from a reputable wood supplier in your area. They can provide you with all the necessary information regarding your products and even show you their certificates. This ensures that you can carry on with your wood projects without the question of the impact on our environment.