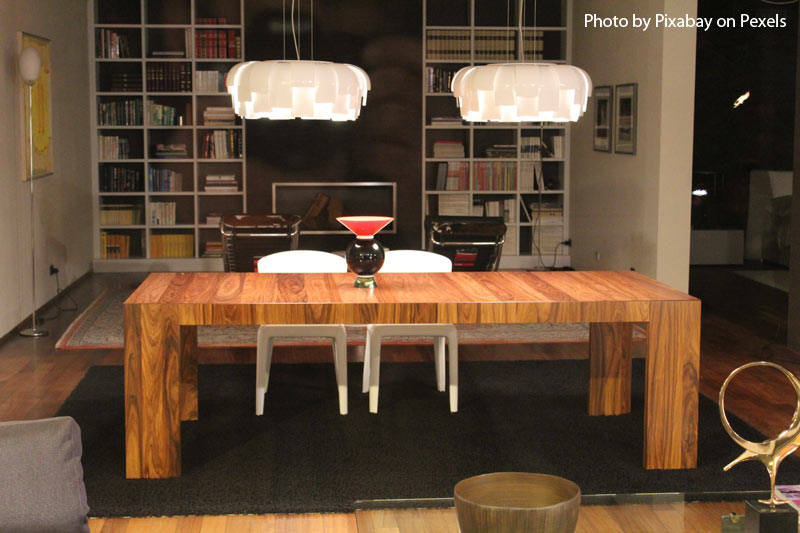 Exotic wood furniture has unique grain and colors that make every piece a practical work of art. Not only are they versatile, but wood furniture adds warmth to your space, regardless of your design style. But how can you be sure that your exotic wood furniture remains beautiful through years of use? Here are a few tips to remember as you clean or store your exotic wood furniture.
Dust Your Exotic Wood Furniture Regularly
Any dust that lands on your furniture has the potential to scratch it, causing damage over time. The longer the dust sits, the greater the chance you will end up harboring microscopic dust mites or spider-like insects. To dust your furniture, it might be tempting to use a feather duster, but that just sends the dust flying into the air, where it can settle right back on your furniture.
Instead, use a damp microfiber cloth to keep the dust trapped in the cloth while gently removing it from your exotic wood furniture. Additionally, you should dust frequently, such as every few days or weekly, to avoid a buildup of those tiny particles.
Deep Cleaning to Reduce Buildup
While you naturally will immediately clean up spills and food from your furniture, a deeper level of cleaning must address the buildup of polish and other grime that collects on your exotic wood furniture.
Once a month, you can use your favorite furniture polish to buff and shine your furniture. However, over time, that polish will leave the surface of your furniture looking cloudy and dull because it builds up over time, which means you won't get the shiny effect you hoped to achieve.
A deep cleaning can address the problem. You could use a tea solution made with black tea. Dip your cloth into the solution and gently wipe down the furniture. Rinse the cloth in plain water to remove the grime, then rewet with your solution before wiping down another section of your exotic wood furniture. Dry and buff each section with another soft cloth.
Protecting Your Wood Furniture
Your exotic wood furniture manufacturer has likely put a finish on the piece to protect it. Use furniture wax, either liquid or paste, to achieve long-lasting protection, thus defending the original finish from the manufacturer. However, it is important to note that liquid wax may need to be applied more frequently to maintain a high level of protection for your exotic wood furniture.
There are also different ways to remove stains and water rings from your wood furniture, but it is important to do what you can to avoid those stains in the first place by using coasters and taking other protective measures. A few ways to remove water rings, for example, include:
Rubbing olive oil or mayo into the whitened area. Allow it to sit for an hour before buffing it away.
Use non-gel toothpaste and rub it on the water ring until it disappears. Wipe away any residue with a damp cloth, then buff the furniture with a dry cloth.
Finally, if you are storing your wood furniture, ensure it is covered with dust cloths and in a climate-controlled area to avoid extreme temperatures, which could warp or otherwise damage the wood. Your storage area should also be checked regularly for leaks since water can create stains and cause damage to your exotic wood finish.
Ready to pick out an exotic wood furniture piece that will last your family for years to come? Our team is ready to help you find the right exotic wood for your needs, and with these cleaning tips, you can extend the life of your wood furniture for generations.
Global Wood Source is a family-owned and operated lumber yard and mill specializing in exotic woods from around the world and rare domestics. We personally acquire and inspect each piece of log and timber obtained from forests and jungles worldwide.