Gloabl Wood Source 6-19-15 on 19th Jun 2015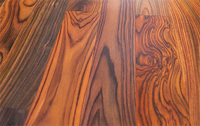 Exotic woods, like all natural materials, possess a warmth, durability and elegance that no human hands can recreate. This is the reason why, despite the hefty price tag, more and more people are choosing this type of material.
But before you go on ordering for slabs in your neighborhood's wood store, there's an essential factor to keep in mind. You have to choose wood that is compatible with your region's climatic condition. Here's a quick guide to help you out:
Northern Region. This area has short summers and extensive winters. Choose wood that have closed grains for added resilience to moisture. Maple and birch are recommended.
Central Region. This area has extreme temperatures - hot summers and cold winters. Recommended wood are of the densely-grained variety which adapt well under such conditions.
Appalachian Region. This area might have unpredictable climate, but home to an array of exotic wood species. Here, you can use different wood flooring types at your heart's delight.
Southern Region. This region has short winters and long summers. Sapgum and tulipwood are suggested for this type of climate.
Pacific Northwest. This region has a maritime climate - warm summers and cool winters. Red alder and big leaf maple are ideal to use in this location.
Whatever type of flooring you need, always make sure that you consider the climate in your area. Doing so can provide you with homes and offices that you can be proud of for years to come.