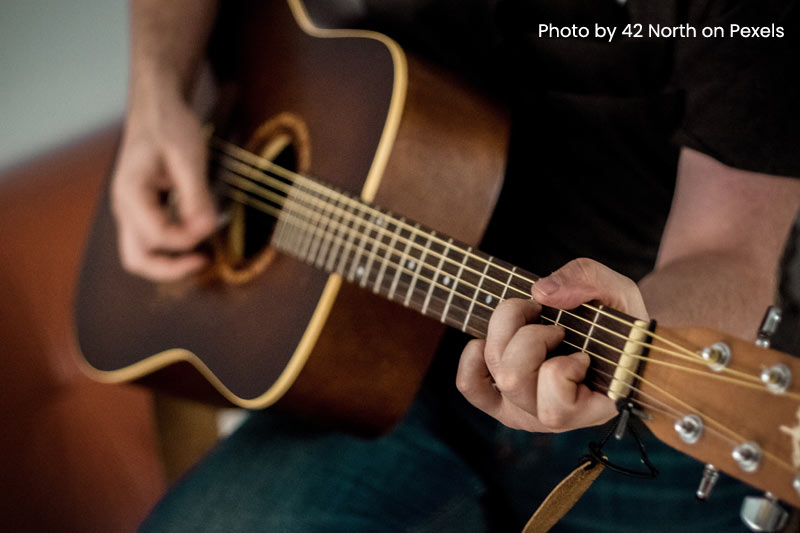 Guitar craftsmanship involves more than just shaping a musical instrument; the materials utilized can impact the tones and sounds your instrument can create. When you build a guitar as your next woodworking project, you bring melodic art to life. Here are a few tips to remember when choosing exotic woods or native woods to create your guitar and woodworking tips to keep in mind.
Guitar Craftsmanship – Building a Unique Instrument
When you are handcrafting your guitar, you are creating a one-of-a-kind instrument, one that will never be exactly duplicated. That unique aspect impacts the quality and tone of the music created. Every part of your guitar woodworking project matters, from the paint, strings, and especially the wood. That means choosing woods that complement the overall sound you want your guitar to have.
While some exotic woods are beautiful to look at, they might not necessarily be the right fit for crafting your guitar. To qualify as the best wood for a guitar, it must be able to hold up structurally but also have the tonal properties you want. Let's learn about the different types of wood and what they can offer.
Maple – This is a hard type of wood with good tonal qualities. Guitar necks are traditionally made from dense maple wood, not only for its strength but also because it can highlight and amplify the wood in the guitar's body. Using maple gives your guitar beauty and a bright sound.
Mahogany – There are 49 types of mahogany, although many types are almost extinct because of the wood's popularity for musical instruments and furniture. Mahogany gives a warm timbre with a lot of bottom ends. To create a balanced instrument, a combination of mahogany and maple for a balanced effect in the musical quality.
Basswood – Originally from Linden trees, basswood is soft and easy to work with, making it easy to shape, but that means it can dent easily. Basswood is used in creating instruments that have an opaque paint job since it doesn't have much grain or color. With its warm and balanced sound, basswood gives your guitar a great mid-range and good sustain.
Alder – Fender guitars from the 1950s and 1960s are made from alder. Today, it is an expensive wood and is not as common in creating guitars. If you do use alder, this lightweight wood has beautiful grain patterns. Once incorporated into your guitar, you get a warm sound with plenty of highs, but it is less likely to have midrange and bass than instruments created from other wood types.
There are also a variety of wood types used by guitar factories to create beautiful instruments with a lovely sound. For instance, swamp ash is lightweight, pretty, and has a pleasant timbre. It also has firm bass tones, a midrange bite, airy highs, and a good sustain. Other popular wood types for guitars include korina, Japanese Ash, and American tulipwood (poplar).
While most of these woods are used in the body of your guitar, the fretboards and neck woods also matter. For instance, Rosewood is traditionally used for fretboards and combined with maple neck wood to create a guitar neck that stands up to extensive human contact. Plus, Rosewood creates a darker tone than maple alone. However, Rosewood has faced restrictions in the past, so there are other options, such as Pau Ferro and Cocobolo.
Are you ready to start creating your guitar? Our team can help you find the right mix of exotic woods to compliment your guitar craftsmanship. Contact us today to learn more about the available options.
Global Wood Source is a family-owned and operated lumber yard and mill specializing in exotic woods from around the world and rare domestics. We personally acquire and inspect each piece of log and timber obtained from forests and jungles worldwide.