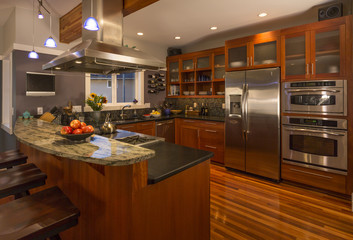 As a homeowner, you want your home (including your kitchen) to be a representation of you, which means standing out from the crowd. Whether your style is modern, traditional, rustic, or a mixture all your own, unique woodwork can be both beautiful and useful.
It's important to realize, though, that not all exotic woods are well-suited for a kitchen. Some are suitable for a variety of uses in the kitchen, but others are not. For the basics, check out these 5 exotic woods that work well in the kitchen.
Best Exotic Woods for Kitchens
If you are shopping for woods for your custom kitchen, this list is a great place to start.
Tigerwood
As its name suggests, tigerwood has a beautiful striped pattern with warm orange and yellow undertones.
As a particularly hard wood, tigerwood is durable enough to handle all the life that happens in your family's kitchen.
One of the most attractive benefits of tigerwood, though, is its resistance to mold and fungus. Moisture can cause a litany of problems for wood, and in such a moisture-heavy room as the kitchen, these features will help your wood last and limit your maintenance.
Wenge
Wenge is especially appealing to those with more modern tastes. The richly dark color and smooth, fine grain combine the warmth of natural wood with a sleek contemporary style.
Wenge cabinets are also durable enough to withstand the typical activity that happens in the kitchen. That makes wenge a great choice not only for cabinets, but for butcher blocks, bar tops, and countertops as well.
Teak
Teak has been making a name for itself as a popular luxury choice in recent years and your kitchen is the perfect room for it.
This wood is naturally high in oils, which helps it resist moisture (and all the mold, mildew, and other damage that comes with it).
Bubinga
Bubinga wood is one of the lesser-known exotic woods. It's a great way to dress up any kitchen.
Originating in West Africa, this tree has a unique reddish color, but it can range from a more orange tint to a deep, dark red. On top of the original look, bubinga is a very durable wood that will put up with just about anything your family throws at it.
Mahogany
Probably the most well-known luxury wood, mahogany wood is most often used in desks, chairs, and other living room furniture.
Mahogany is on the softer side so it's more useful for cabinets than for butcher blocks and countertops. When it's used appropriately and crafted well, mahogany can give any room a truly luxurious look.
How to Start Customizing Your Kitchen with Exotic Woods
To truly feel at "home" in your house, you need to give it your style. A custom kitchen is a great start. The first step is picking out some of the finishes and styles you like.
To start designing your dream kitchen, browse types of exotic lumber to see what strikes your fancy.
Global Wood Source is a family owned and operated lumber yard and mill specializing in exotic woods from around the world and rare domestics. We personally acquire and inspect each piece of log and timber obtained from forests and jungles worldwide.