Global Wood Source 1/31/16 on 25th Feb 2016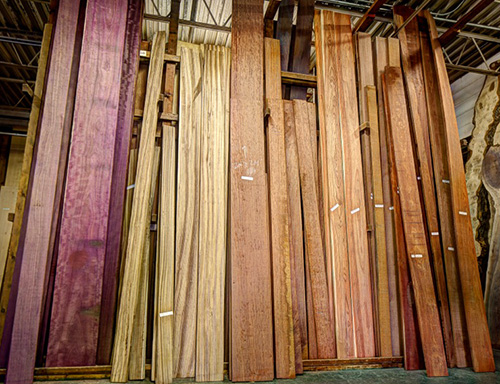 By its name alone, exotic hardwood conjures images of simple elegance and aesthetic beauty matched with a hefty price tag. The cost of acquiring hardwoods for housing and furniture use is determined by its rarity and the cost of transporting the raw material fhttps://www.globalwoodsource.comrom the source to your doorstep.
Domestic wood on the other hand can be sourced locally from areas where trees are being removed to make way for urban development or those fallen trees uprooted by storms and earthquakes. Different species of locally grown trees can be processed for a variety of purposes and the cost is minimal compared to the exotic lumber.
Urban lumber is seen to replace the overall demand for exotic lumber by as much as 30% according to the USDA Forest Service. With about 20.9 Million acres of urban forest in the US, the volume could supply about a quarter of the consumer needs.
The dwindling supply of exotic hardwood in the forests and the stricter forestland use laws are causing the prices to shoot up considerably. Customs duties and shipping costs add up to the price of the wood. For this reason, people are opting for a more affordable and easily-available material.
Urban wood is an awesome and beautiful kind of lumber although utilization is minimal as yet. This is because many species are difficult to process into usable material. The trees tend to have irregular shapes and grain and it takes painstaking procedure to dry it and shape it into a specific form. Another factor to consider is the infestation of pests such as termites and pin-hole borers feeding on the trees making the trunks soft and useless. It would take an experienced craftsman to achieve a high-quality wood product from such a challenging material.
Domestic wood such as Beefwood, Eucalyptus, Poplar, Oak, and Willow are good materials to make into the following wooden furniture and musical instruments:
kitchen cabinets, pantry shelves
bed, headboard, bedside tables
Dining table, kitchen counter
Wardrobe closet, chest of drawers
Wall panels, mural frames
Acoustic guitar
A supplier of domestic wood in Santa Clara, California supplies a wide range of rare urban lumber, slabs, flooring, turning blocks, and exotic hardwood that can be ordered online. You can order to your specifications and delivered at your doorstep anywhere you are located. Whatever your home project is or your company's lumber requirement, your needs will be taken care of by the right people.