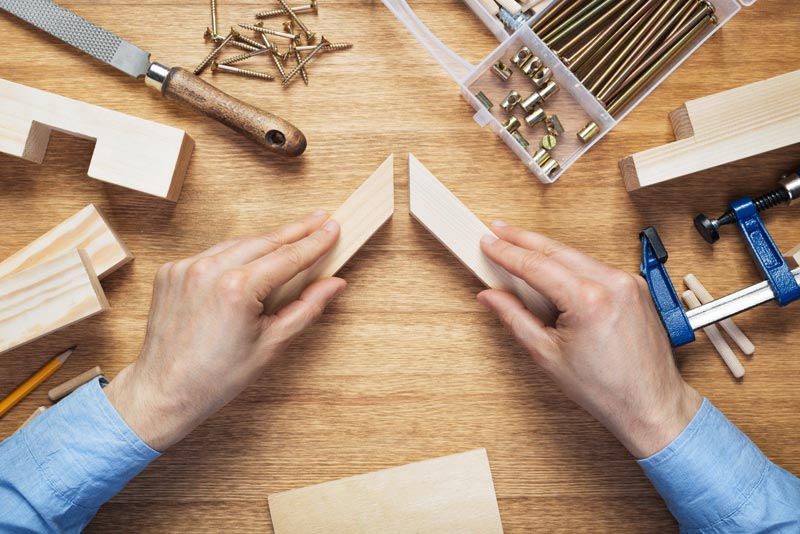 You love working with wood. The only problem is you have so many ideas that you don't know where to start your next project.
Whether you're a professional looking for a DIY project in your leisure time or you're new to woodworking, there are a lot of ways to get started. You can build just about anything you dream up if you have the right wood and tools handy. You may also find yourself wondering if it will take too much time and concerned that you'll never finish.
A lot of woodworking projects require significant time and energy to succeed in crafting a final product to your liking. However, there are a few things you can make to pass the time on a rainy afternoon or any afternoon for that matter.
That's why we've composed a short list of five woodworking projects for you to conquer in a weekend. Keep reading to learn more.
Saw Horse/Work Table
Any project that you plan to do now or in the future is going to likely require a sawhorse or a work bench and work table.
Build these projects now and they'll save you time later when you're constructing more elaborate projects. They'll indeed be useful in many, if not all, of your other woodworking projects so you'll be glad you built these necessary items over a weekend.
Birdhouse
If you have kids that want to be involved in your woodworking projects, a birdhouse is a fun way to go.
You can build simple or elaborate birdhouses in just a few simple steps. They make great yard decor and the birds love them too!
Bookshelves/Wall Cabinet
Build a bookshelf in no time with a few pieces of your favorite lumber and piece of MDF. You can also go fancy and make the whole thing out of something exotic.
A wall cabinet is another quick project that requires minimal materials and can add function to any space.
Garden Bench
If you're looking to get a little more serious about your woodworking projects,consider building a garden bench.
This project may cost you a little more, but it will be worth it when you're relaxing in nature with something you built from scratch.
Queen Bed Frame
Crafting a new bed frame is quite easy with a little direction. You'll need the following supplies:
2 - 1x6x81
2 - 1x6x61
2 - 1x2x79
2 - 1x2x81 - with 45-degree angle off square
4 - 4x4x8
Do a quick search on the Internet to find out how to piece it all together. The important part is that it shouldn't take long to complete and your new bed will feel luxurious.
Final Thoughts
Crafting woodworking projects is all about setting aside ample amounts of time to dedicate to your projects. Patience is a virtue that all carpenters and woodworkers must maintain to create things that they're proud of.
Get started with one of these projects or draw up your own idea. Whether you have a Saturday off with some open space or you work with wood regularly, keeping a project ready is essential for practice. After all, practice makes perfect.
When you have some projects lined up, you'll need the wood to get started. No matter what your project is, we have the premium products that you're looking for. Contact us for more information!
Global Wood Source is a family owned and operated lumber yard and mill specializing in exotic woods from around the world and rare domestics. We personally acquire and inspect each piece of log and timber obtained from forests and jungles worldwide.